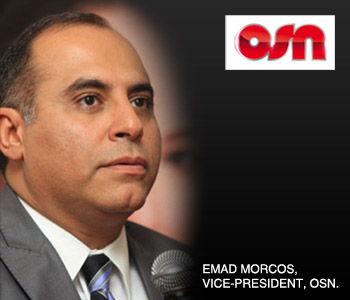 November 6, 2011 Dubai, UAE: OSN signed an agreement with Pilipinas Global Network Limited, the international arm of the Philippines' Kapatid network, TV5 to formally seal their partnership to deliver premium Filipino entertainment, news and sports programmes to the Filipino expatriate community in the Middle East and North Africa (MENA).
"With this partnership, we're bringing even more quality programming for the growing Filipino community in the Middle East and North Africa, becoming its premier source for quality news, sports and entertainment," said Emad Morcos, Vice-President, OSN.
Kapatid TV5 - featuring a variety of entertainment shows, drama series, and sitcoms - is now being seen throughout MENA via OSN's (Channel 165 on DTH), while Aksyon TV International delivers the best sports and news programmes (Channel 166 on DTH).
"We're delighted to bring our game-changing brand of programming to a wider footprint throughout the region via OSN – this means more enjoyable entertainment and sports programmes, as well as better informative and service-oriented news and public affairs shows for Filipino expatriates all over the Middle East and North Africa." said Claro Carmelo Ramirez, President of Pilipinas Global Network (PGNL)
OSN marked the formal launch of the two premium Filipino channels in the Middle East – Kapatid TV5 and Aksyon TV International – with an exciting 5 event-in-one-weekend celebration on November 3 to 5, 2011 in Abu Dhabi and Dubai.
Dubbed "Give Me 5 Kapatid" the event series featured performances and appearances by leading Kapatid TV5 artists, including award-winning actor Aga Muhlach, beauty queen-turned-actress/TV host Ruffa Gutierrez, entertainment journalist and comedian Shalala, as well as guest pop band, Side A.
Among the highlights include the UAE shoot of Pinoy Explorer, featuring award-winning actor Aga Muhlach exploring the various tourism and adventure sites suggested by Filipino expatriates based in the Emirates which will be shown in the programme's future episodes.
Kapatid TV5's popular and trend-setting talent show, Talentadong Pinoy, staged a UAE production, its first in the Middle East, giving expatriate Filipinos a chance to showcase their talents. A variety and game show was also organised at the Abu Dhabi National Theatre during the Kapatid TV5 Fans Day held last November 3, 2011, with performances from Aga Muhlach and the Side A band as well as appearance by former beauty queen now TV host Ruffa Gutierrez and noted entertainment journalist and comic Shalala, among others.
The event was attended by the HE Grace Princesa, Philippine Ambassador to the UAE, who accepted the donation raised during the event. The funds will be used to help a few Kapatids for their repatriation back home,
Two months since its launch, Kapatid TV5 and Aksyon TV International are now seen by over 400,000 viewers in the region. "We're still overwhelmed by the thousands of OSN subscribers who attended our Give Me 5 Kapatid events. It's heart-warming to see them getting entertained by their favourite artists, but nothing beats the joy we felt when we witnessed the unity and harmony of the Filipino community as they made their contributions to the fund raising activity held at the event. We look forward to doing more engaging community activities like this in the future," ended Morcos.