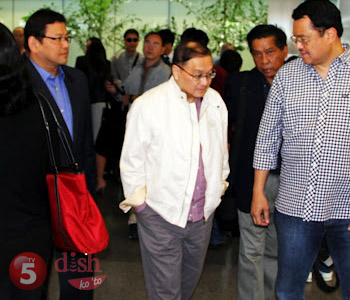 TV5, the fastest growing broadcast network in the Philippines has teamed up with DISH Network L.L.C., to bring its outstanding news and entertainment programs to Filipinos residing in the US beginning (date of start). Dish Network is the leader in international programming in the United States and the first pay-TV provider to carry TV5's international channels. Through Pilipinas Global Network (PGN), the international affiliate of TV5, Filipinos in North America can now enjoy cutting-edge and trend-setting programming through its Kapatid TV5 and Aksyon TV International channels.
"TV5 International got another boost with this partnership with Dish Network. It signifies our continuing commitment to our Pinoy audiences to give them the best entertainment and public service wherever they may be in the world," say Clarito Ramirez, President and CEO of PGN.
Kapatid TV5 is a 24-hour general entertainment Tagalog language channel that features Filipino culture and arts representing the pulse of the Filipino people. It is the home of the biggest names in Philippine entertainment, including Willie Revillame, Aga Mulach, Derek Ramsay, Alice Dixson, Lorna Tolentino, Nora Aunor, and Sharon Cuneta. The channel is bannered by its flagship programs such as Face to Face, Wil Time Bigtime, Babaeng Hampaslupa, Juicy, Paparazzi, Sa Ngalan Ng Ina, Glamorosa, Pinoy Explorer, Talentadong Pinoy, and Nandito Ako, the much-talked about mini-series where international singing sensation and American Idol finalist David Archuleta made his acting debut.
Aksyon TV International, for its part, is a 24-hour Tagalog language channel dedicated in keeping Filipinos across the globe updated on the latest national and international news and current events, while keeping viewers abreast on what's happening in the local sports scene. Aksyon TV International is the official worldwide broadcaster of the Philippine Basketball Association (PBA) games, the first and biggest professional basketball league in Asia. For those interested in the collegiate levels, Aksyon TV is also the official broadcaster of the National Collegiate Athletic Association (Philippines) basketball games that feature the storied teams from San Beda, Letran Mapua, San Sebastian, etc.
Currently, Pilipinas Global Network acts as the sole and exclusive distributor and licensee of the programs, shows, films and channels of TV5. It distributes these media content via syndication and via its international linear channels, Kapatid TV5 and AksyonTV International.
Kapatid TV5 and Aksyon TV International channels are available in Guam, the Middle East and North Africa (Afghanistan, Algeria, Bahrain, Chad, Djibouti, Egypt, Iran, Iraq, Israel, Jordan, The Kingdom of Saudi Arabia, Kuwait, Lebanon, Libya, Mauritania, Morocco, Oman, Qatar, Somalia, Sudan, Syria, Tunisia, Turkey, United Arab Emirates, Yemen, and Palestine) and Europe (Albania, Andorra, Austria, Belarus, Belgium, Bosnia and Herzegovina, Croatia, Cyprus, Czech Republic, Denmark, Estonia, Faroe Islands, Finland, Germany, Gibraltar, Greece, Guernesey, Hungary, Iceland, Ireland, Isle of Man, Italy, Jersey, Latvia, Liechtenstein, Lithuania, Luxembourg, Macedonia, Malta, Moldova, Monaco, Montenegro, Netherlands, Norway, Poland, Portugal, Romania, Russia, San Marino, Serbia, Slovakia, Spain, Sweden, Switzerland, Ukraine, United Kingdom and the Vatican City).