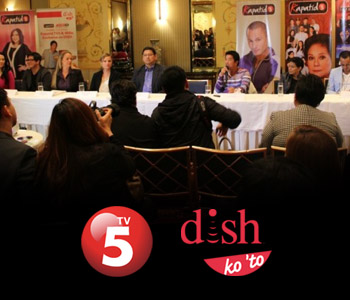 TV5 has teamed up with DISH to bring its news and entertainment programs to Filipinos residing in the United States. The service starts Wednesday, May 23.
DISH is the leader in international programming in the US and the nation's first pay-TV provider to carry TV5's international channels.
Through Pilipinas Global Network (PGN), the international affiliate of TV5, US-based Filipinos will have access to Kapatid TV5 and Aksyon TV International channels.
"TV5 International got another boost with this partnership with DISH. It signifies our continuing commitment to give Pinoy audiences the best entertainment and public service programming, wherever they may be in the world," said Claro Ramirez, president and CEO of PGN.
"DISH is pleased to be the first pay-TV provider to offer TV5 content in the US," said Chris Kuelling, vice president of International Programming at DISH. "Filipino communities will finally have access to the news, entertainment and sports programming offered by 'Kapatid TV5' and "Aksyon 'TV International'."
Kapatid TV5 is a 24-hour general entertainment Tagalog language channel that features Filipino culture and arts representing the pulse of the Filipino people. It is the home of the some of the biggest names in Philippine entertainment.
Aksyon TV International is a 24-hour Tagalog language channel dedicated to keeping Filipinos across the globe updated on the latest national and international news and current events.
Pilipinas Global Network acts as the sole and exclusive distributor and licensee of the programs, shows, films and channels of TV5. It distributes this media content via syndication and its international linear channels, "Kapatid TV5" and "Aksyon TV International".