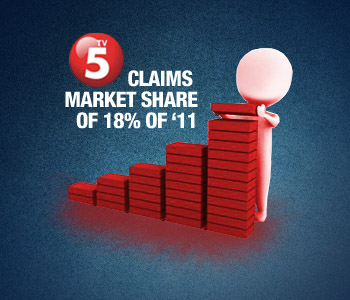 Manuel V. Pangilinan-led television network Associated Broadcasting Corp. (ABC), operator of TV5, saw its market share grow substantially in 2011, establishing itself as a serious player in the broadcast sector.
From a negligible footprint of 2.3 percent in 2010, TV5 said it ended 2011 with an 18-percent share in television industry advertising revenues for Metro Manila.
For nationwide rankings, TV5 grew its share to 15.6 percent from 2.7 percent of industry revenues.
This year, the company aims to further strengthen its position in the industry, with the help of a recent investment from Philippine Long Distance Telephone Co. (PLDT).
TV5 is a unit of MediaQuest Holdings, a wholly owned subsidiary of the PLDT employee Beneficial Trust Fund.
Constitutional restrictions prohibit companies with foreign shareholders from owning voting rights in local media outfits.
Earlier this month, PLDT announced that it would invest P6 billion in MediaQuest, through the purchase of the latter's Philippine Depository Receipts—a form of security that carries no voting rights.
In a statement on Monday, officials said the investment in MediaQuest, which will be used for the expansion of TV5 and affiliate satellite TV provider Cignal, would help transform the PLDT group from a telecommunications company into a multimedia conglomerate.
Cignal, for its part, is the country's largest direct-to-home satellite TV provider with over 250,000 subscribers.
"With the direct investment, MediaQuest will serve as the anchor for the PLDT Group's media offerings through the creation of content, generation of new revenue streams, and providing direct access to overseas Filipino workers worldwide," PLDT president and CEO Napoleon Nazareno said.
"We could derive new revenue streams as we use the content to increase subscription revenues across the group's various platforms and maximize advertising potential available from the sizeable subscriber base of the group," he added.
PLDT, owned by Hong Kong's First Pacific Co. Ltd. and Japan's NTT DoCoMo, has over 67 million mobile phone subscribers, translating to a 67-percent share in the country's lucrative telecommunications market.