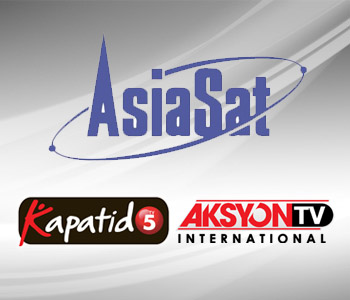 Hong Kong, 4 August 2011 – Asia's leading satellite operator Asia Satellite Telecommunications Co. Ltd. (AsiaSat) is pleased to announce that Associated Broadcasting Company (ABC) TV5's affiliate company, Pilipinas Global Network Ltd. (PGN) has launched two new Filipino-language channels on AsiaSat 3S.
The two new channels, Kapatid TV5 and Aksyon TV International, will be distributed to major pay TV platforms, enabling the services to reach millions of Filipino viewers across AsiaSat 3S's C-band footprint. Kapatid TV5 is a general entertainment channel carrying most of TV5's flagship programmes such as Face to Face, Wiltime Big Time, Talentadong Pinoy, Juicy, Paparazzi and Wow Mali, while Aksyon TV International is a news, information, public service and sports channel offering news, public affairs and local sports programmes.
"We are very pleased to launch our two new international channels on AsiaSat 3S. Our vision is to build a global community of subscribers who wish to remain connected with their Filipino roots, and this is an important move in our global strategy to take our network's popular programming to viewers abroad," said Claro Carmelo Ramirez, CEO of Pilipinas Global Network, Ltd.
Reena Garingan, Vice President for Sales and Business Development added, "AsiaSat 3S is Asia's most watched broadcast platform and it enables us to access all major pay platforms effectively and instantaneously. This is critical to our success in penetrating all markets in Asia, and we look forward to signing up more affiliates in the future."
"We are excited that PGN has selected AsiaSat for distributing their international TV services in the Asia-Pacific. These channels will serve the fast-growing Filipino community in the region with premium entertainment and up-to-the-minute local news and information. We are pleased to add PGN to our list of high quality customers and welcome the launch of these exciting new channels on AsiaSat 3S," said William Wade, President and CEO of AsiaSat.