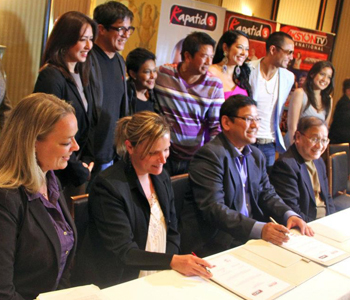 More US-based Filipinos can now feel closer to home with news that the trailblazing programs of TV5, the Philippines fastest growing broadcast network, will now be available via leading US satellite TV provider DISH Network. Filipino business tycoon Manuel V. Pangilinan, Chairman of TV5 operator ABC Development Corporation, led the network in sealing the deal with DISH General Manager of International Marketing, Jennifer Leslie and Director for Multicultural Programming, Izabela Slowikowska, in a contract signing held last June 1 at the Mandarin Oriental Hotel in San Francisco, California.
Key network officials including TV5's affiliate company Pilipinas Global Network (PGN) President and CEO Claro C. Ramirez and TV5 Executive Vice President and COO Roberto V. Barreiro joined Pangilinan in the contract signing. The two international channels are operated by PGN.
DISH Network is the first satellite provider in North America to carry TV5's two international channels, Kapatid TV5 and Aksyon TV International. Both channels will be made available under DISH Network's new programming brand, "Dish Ko 'To," aimed specifically at the overseas Filipino community.
Through DISH Network, Kapatid TV5 and Aksyon TV International are now accessible to Filipino subscribers in North America.
During the press conference that followed, Pangilinan shared his plans for the Kapatid network. Converging the resources of his other businesses such as PLDT-SMART and Meralco with that of TV5, Pangilinan envisions the network to become an encompassing media provider and digital leader. He also expressed an unwavering commitment to driving the Group to its long-term goal of creating a multimedia conglomerate. This roadmap is enhanced by the network's plans for more technological advancements, signal improvement, and infrastructure development. TV5's US launch is part of the network's aggressive expansion and long term commitment to reach more than 12 million Filipinos outside of the Philippines.
Prior to the contract signing in San Francisco, TV5 successfully launched its two new international channels to thousands of Filipinos in Los Angeles. The network capped the final leg of the tour at the Bill Civic Graham Auditorium last June 2.