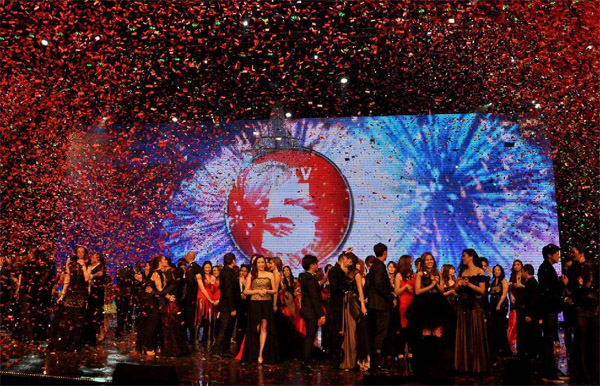 The last quarter of 2012 turned out to be a particularly rewarding period for TV5 as the Kapatid Network actually overtook GMA Network in six viewer-rich metro cities covering a good 4 million viewers.
This was revealed by the Nielsen TV Audience Measurement's all-week overnight data. These cities are Iloilo, Cebu, Bacolod, Davao, Cagayan de Oro, and General Santos City, where TV5 even shared the top spot with ABS-CBN.
TV5 also regained the leadership in Dagupan which can also be attributed largely to GMA's continuous decline in that area, which began as early as the second quarter of 2012.
Acknowledging TV5's dynamic programming for the surge in the network's provincial ratings, TV5 chairman Manuel V. Pangilinan is optimistic that the upward trend will continue in 2013.
"Coming off our strong performance in the last quarter of 2012, specifically in Visayas and Mindanao, we are looking at a more competitive, more energetic, more innovative TV5 this coming year. We continue to build on our success with a wider and clearer broadcast coverage across the country, and we want to duplicate these in our overseas operations as well," MVP said in a statement prior to the start of the star-studded "Go5!" trade launch Tuesday at the Newport Performing Arts Theater at Resorts World Manila.
"TV5's continued climb as the broadcast network of choice for more and more Filipinos reaffirms our vision of providing our people with innovative and creative programming that is attuned to the evolving tastes of today's TV audiences," added TV5 president and CEO Ray C. Espinosa. "We are proud of the work of our outstanding talents, staff and personnel in helping to create a truly Kapatid Network that we could call our very own."
According to the Nielsen TAM's total invidividuals overnight data covering from weeks 1-50 of 2012, TV5 gained strength in the final stretch of 2012 in Total Nationwide Urban viewership.
The growth is a result of the network's surge in Total Visayas for the fourth quarter and the high levels it achieved in the third and fourth quarters of the year in Mindanao.
The network continues to maintain its robust performance in Luzon as it posted an audience share of 21 percent in Metro Dagupan, four points higher than its 17 percent in the second quarter of 2012. By comparison, GMA suffered a six percent decline in the same period, down from 33 percent in the second quarter and 27 percent in the fourth quarter.
Significant headways were also made in the Visayan region starting with a 17 percent peak audience share in Metro Iloilo during the fourth quarter, which translates to a nine-point increase from its third-quarter performance while GMA's share slipped from 22 percent to 16 percent in the same period.
In Cebu, TV5 enjoyed a six-point lead in the last quarter of the year with a 24 percent audience share as compared to GMA's 18 percent. The network is also big in Metro Bacolod where it posted a seven point lead in Q3 to Q4 with 24 to 25 percent audience share as against GMA's 17 to 18 percent.
The trend does not stop there. In Mindanao, viewers have also started embracing TV5's programs, as the network's audience share spiked in 19 percent in Q4 of 2012, up from 15 percent during the first quarter. GMA's share in the region dipped by six percentage points from 26 percent share in Q1 2012 to 20 percent in Q4.
In Metro Davao, TV5 took the lead from GMA with its Q4 audience share of 20 percent. In Metro Cagayan De Oro, it posted an 11-point lead over GMA in Q3 and sustained it until the end of the year. TV5's audience share also reached 26 percent in the same period while GMA can only manage 16 percent.
Finally, in Metro General Santos, TV5 maintained a substantial lead over GMA since the start of 2012 which reached 28 percent and 32 percent during the second and third quarters respectively.
In the last quarter, the Kapatid Network ended the year on a high note as it managed to climb further to share the top spot with ABS-CBN with a 34 percent audience share while GMA maintained 22 percent.
"The latest figures done by the reputable media monitoring company Nielsen further strengthen our commitment in boosting the country's broadcast standards even more," Atty. Espinosa further said. "We are hopeful that 2013 will be our banner year in providing quality public service as well as valued entertainment programs to all Filipinos wherever they may be in the globe."
The network's current 19 TV and five radio stations around the country now cover 88.6 percent of the national urban population. TV5 hopes to reach its 100 percent coverage target by the end of 2013.
Its global channels, Kapatid TV5 and AksyonTV International through affiliate Pilipinas Global Network Ltd, also reach overseas Filipinos in 79 countries and territories in four continents and help bring them closer to home.
"Beyond geography, we're taking TV5 one step ahead towards becoming a full multimedia venture," MVP boldly declared as he also acknowledged the important roles of the network's digital media platforms in the news site InterAksyon.com, the sports portal InterAKTV.ph and the lifestyle review site Kristn.com that all complement the network's full service offerings in the emerging online media.
Source: http://www.interaksyon.com/entertainment/nielsen-ratings-show-tv5-surging-ahead-of-gma-in-six-media-markets/